Price and Performance (End of Month)
For accredited, professional, institutional and/or qualified persons only.
Past performance is not indicative of future performance. Performance is provided net of fees.
Click on "More information" for daily figures
Valuation date: 29 Oct 2021
SHARE CLASS
PRICE
MTD%
YTD%
ISIN
FACTSHEET
MORE INFORMATION

GAM Star Credit Opportunities (USD)

Accumulation USD
19.2509
↓ -0.54
↑3.24
IE00B560QG61
Income USD
12.6079
↓ -0.54
↑3.24
IE00B53TV722
Institutional (Acc) USD
17.4250
↓ -0.51
↑3.58
IE00B5769310
GAM Star Credit Opportunities USD Inst Inc
10.0633
↓ -0.51
↑3.58
IE00B5831Q88

GAM Star Credit Opportunities (EUR)

Accumulation EUR
19.3050
↓ -0.95
↑2.94
IE00B567SW70
Income EUR
16.0181
↓ -0.95
↑2.94
IE00B55JGJ70
Institutional (Acc) EUR
16.6409
↓ -0.92
↑3.28
IE00B50JD354
Institutional (Inc) EUR
13.7681
↓ -0.92
↑3.28
IE00B55J5565

GAM Star Credit Opportunities (GBP)

Accumulation GBP
21.9313
↓ -0.94
↑3.42
IE00B56BC491
Income GBP
13.8250
↓ -0.94
↑3.42
IE00B5870639
Institutional (Acc) GBP
18.9731
↓ -0.90
↑3.77
IE00B510J173
Institutional (Inc) GBP
13.3029
↓ -0.90
↑3.77
IE00B54L8Q54

GAM Star Credit Opportunities (CHF)

Accumulation CHF
17.9722
↓ -0.98
↑2.66
IE00B58HMX40
Income CHF
12.6056
↓ -0.98
↑2.66
IE00B544NZ88
Institutional (Acc) CHF
14.6508
↓ -0.95
↑3.01
IE00B55L7J02
GAM Star Credit Opportunities (EUR) CHF Inst Inc
10.2043
↓ -0.95
↑3.01
IE00B51TXR89
ASSET CLASS
Fixed Income – Specialist.
INSTRUMENT TYPES USED
Mainly corporate bonds, with limited exposure to convertibles, derivatives (mainly currency forwards) and cash.
INVESTMENT OBJECTIVE
The fund seeks to achieve high income generation with capital appreciation from investing in bonds of high quality companies.
HEDGING
Able to use currency forward contracts to hedge the currency risk of non-base currency assets. Derivatives have not been used to hedge interest rate risk as inclusion of fixed rate and floating rate bonds provides natural hedge.
INVESTMENT UNIVERSE
Publicly quoted corporate bonds of any credit quality issued predominantly by investment grade companies, with a particular focus on the financial sector and niche areas such as undated, floating rate and fixed-to-floater debt instruments
LEVERAGE
The fund does not borrow to invest and does not leverage its positions to generate a notional exposure in excess of its NAV.
Meet our award winning credit investment specialists
Anthony Smouha
CEO, Fund Manager
Anthony Smouha is Chief Executive Officer, a member of Management Committee and Fund Manager managing GAM funds since joining in 1992.
Prior to joining Atlanti S.A., Mr Smouha was senior vice president, head of bond trading and sales at Soditic SA/SG Warburg Soditic SA, Geneva. Prior to this, he was at Credit Suisse First Boston in London.
Mr Smouha was educated at Harrow School and holds an MA Cantab Hons in Economics from the University of Cambridge. He is based in Geneva.
Grégoire Mivelaz
Fund Manager
Gregoire Mivelaz is a Fund Manager and a member of Management Committee.
Prior to joining Atlanti S.A. in 2009, Mr Mivelaz held positions both as a buy-side and as a sell-side credit analyst.
Mr Mivelaz graduated from the University of St Gallen and holds a BA in Finance and Capital Markets, an MA in Economics and is a CAIA charterholder.
Patrick Smouha
Fund Manager
Patrick Smouha, who joined Atlanticomnium S.A in 2012, is co-managing the GAM's credit opportunities strategies alongside Anthony Smouha and Gregoire Mivelaz
Prior to this Patrick was assistant fund manager, responsible for dealing and execution. He has been a member of Atlanti's Investment Committee since 2016. From 2012 to 2016, he performed a wide variety of tasks including bond research and assisting with the management and administration of the funds.
Patrick holds a BSc in management from the University of Lausanne (HEC) and an MSc in finance from the University of Geneva (HEC).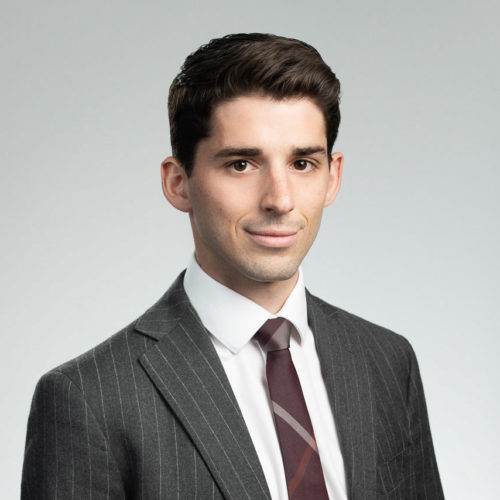 Romain Miginiac
HEAD OF RESEARCH
Prior to joining Atlanticomnium S.A in September 2018, Romain Miginiac was a Credit Analyst at Aberdeen Standard Investments in Edinburgh from 2016.

He was a lead analyst covering a wide range of banks and insurers. He also worked at KPMG and UBS in Geneva. Romain is a CFA® charterholder.